TOP 40 SONGS OF 2K11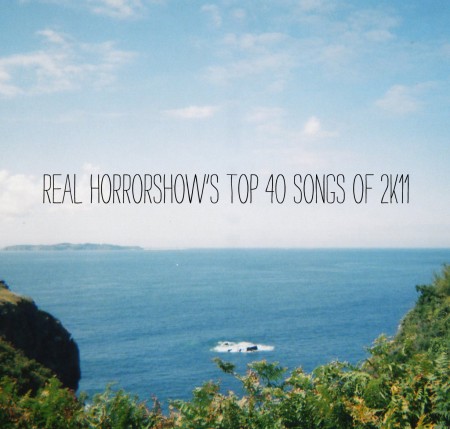 I'm shit at lists. I always take too long to put them out and then I'm not sure if they're right after I release them, but I've always liked year end things, and seeing as I've done some in years prior, here's my 40 favourite songs released this year!
+ Check out (24 of) them out on Spotify in this handy playlist!
40. Paradise – "Luella" (Self-released)
39. Youthfall – "Secular Child" (Self-released)

38. Palmistry – "Black Creps" (Self-released)
37. Peaking Lights – "Hey Sparrow" (from 936, on Weird World)
36. SLEEP ∞ OVER - "Romantic Streams" (from Forever, on Hippos In Tanks)
35. Sunless '97 – "Whenever I Can" (from the Making Waves EP, on Abeano)
34. Bos Angeles - "Beach Slalom" (from their 7″ single, on Roundtable Records)
33. Austra – "Lose It" (from Feel It Break, on Domino)

32. Lil B – "Unchain Me" (from I'm Gay, on Amalgam Digital)
31. Fair Ohs – "Everything is Dancing" (from their self-released debut album)
30. Girls – "Honey Bunny" (from Father, Son, Holy Ghost, on True Panther Sounds)
29. FAMY – "Ava" (self-released)
28. Ifan Dafydd – "Miranda" (from debut single on Push & Run)

27. Psychologist – "Comes In Waves" (from Waves of OK EP, on Not Even)

26. Blood Diamonds – "Grins" (from the Grins 7″ on Transparent)
25. Radiohead – "Lotus Flower" (from The King of Limbs, XL/Ticker Tape)
24. Theme Park – "A Mountain We Love" (from their debut single on paradYse)
23. Hella – "Headless" (from Tripper, on Sargent House)
22. Battlekat – "Into The Forest" (from 05272011-10242011 EP, self-released)
21. Gross Magic – "We're Awake Tonight" (from Teen Jamz, TSOSN)
20. King Krule – "Bleak Bake" (from self-titled EP, on True Panther Sounds)
19. Southern Shores – "Meridian" (from the Atlantic EP, on Cascine)

18. John Talabot – "Families" (from the Families EP, Young Turks)
17. Korallreven – "As Young As Yesterday" (from their debut on Acéphale)
16. Toro Y Moi – "Elise" (from Underneath The Pine, on Carpark)
15. Vondelpark – "Camels" (from nyc stuff and nyc bags, R&S)
14. Trevor And Ever – "Good Love" (self-released)

13. Disclosure – "I Love…That You Know" (from 7″ on Transparent)
12. Purity Ring – "Ungirthed" (from Ungirthed 7″, on Transparent)
11. Male Bonding – "Tame The Sun" (from Endless Now, on SubPop)
10. Frank Ocean – "Thinking About You" (self-released)
09. Woman's Hour – "Jenni" (debut single on Dirty Bingo)
08. Metronomy – "The Bay" (from The English Riviera, Because Music)
07. Drake – "Headlines" (from Take Care, Cash Money)
06. Smith Westerns – "Weekend" (from Dye It Blonde, on Weird World)
05. A$AP Rocky – "Peso" (from self-released LiveLoveA$AP mixtape)

04. MellowHype – "67″ (self-released)

03. Slime – "Caffeine" (from Increases, on Tough Love)

02. James Blake – "Unluck" (from self-titled debut album, Atlas/A&M)

01. Unknown Mortal Orchestra – "Nerve Damage!" (self-titled, Fat Possum)